Book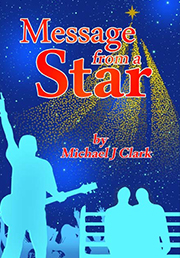 Official Review: Message From A Star by Michael J. Clark
[Following is an official OnlineBookClub.org review of "Message From A Star" by Michael J. Clark.]
---
4 out of 4 stars
---
Ever imagined a bright family vacation that is expected to be enjoyable but turned into a fight for freedom? Are you a fan of adventurous and exciting stories? If yes, then Michael J. Clark's 448-page road fiction novel titled Message From A Star is perfect for you. It is steeped in themes of danger, family, true friendship, crime, and espionage.
The book is encapsulated within twenty-nine chapters. The storyline revolves around two men— Joe and Chad, who were best friends, and the coolest guys in high school in the era of the fifties. Years later, they surprisingly reunite in Florida while bringing their respective families for holidays. In a shocking and unexpected turn of events, both men drift from being harmless family men and tourists and are thrust into the blood-chilling world of cold-blooded murder, hard drugs, crime, and ruthless gangsters. On the run from determined and ambitious cops, and amidst the battle for their survival and freedom, they must ultimately prove their innocence under the watchful and judgmental eyes of the world. Read up to find out if they are fortunate enough to overcome their perils.
Michael J. Clark is a great writer. I admire his light-hearted, humorous, and simplistic writing style. The adventures in this book are one of a kind. Message From A Star can rightly be described as a reasonably good debut novel. The author does an excellent job of wrapping up action and humor in a commendable way. The plot is riddled with twists and turns, and the characters are caught up in a perpetual cycle of disasters.
There is also a theme of suspense that rings throughout the novel. The author should be commended for creating a set of well-constructed and incredibly likable characters. The story is intensely character-driven. The author designed a careful and extensive behavioural chart for the main characters. Their adventures, thought processes, distinctive personalities, and strong motivations kept the plot exciting and refreshingly amusing. Characterization strengthens a book and gives it life. In the case of this book, this is monumentally true in every sense. Therefore, I am rating it 4 out of 4 stars because the characters are professionally developed. Also, the book is well-edited. I found only three grammatical errors that did not distract my reading experience.
My favorite character is Joe. He is the more courageous, logical, and intelligent member of the dynamic duo. He is also a voice of caution and a true family man at heart. I admire his bravery during his encounter with the drug baron, Getty. It was a tensed survival scene filled with suspense, drama, grit, and a frail thread that separates life and death dangling at the top of it. Other players, such as Angie and Babs (the ladies at the bar), Rico and Jose (the thieves), Albert (the hotel owner), and Chillic (the notorious drug lord, The Chameleon) helped to drive the storyline. Various settings like luxury hotels, dreary low-income houses, beaches, and so on were well-orchestrated.
In conclusion, Message From A Star is fun, entertaining, and humorous, but at heart a tale of true friendship. You will be charmed by the jokes, nostalgic memories, and brave actions of Joe and Chad as they lurch from one experience to the other in a bid to clear their names and set their lives back to the tone of normalcy. I recommend this book to anyone who believes in family bonds, the joys of friendship, and the fight for freedom.
The only thing I dislike about the book was the instances of several occurrences of profane words. Notwithstanding, I enjoyed the book. Joe's imaginative writing to his wife (Stacey) towards the ending part of the book was very captivating and emotional. That is what you get when you read a book authored by a songwriter.
(KIRKUS REVIEW)  Message From A Star.
In this old-fashioned caper novel, two former high school heroes find themselves on the run from the law after they reconnect while vacationing with their families at Disney World.
Remember that handsome high school quarterback? The popular kid who scored on and off the field? In later life, he might resemble Joe Randall and Chad Dablusie, two old friends and aging heartthrobs whose glory days are long past. Despite having the world at their feet back in the 1950s, the men have tumbled into middle age, trading their athletic prowess and rock-star good looks for paunches and receding hairlines. They lost touch after graduation but reunite when they bump into each other on family vacations at Disney World. Joe and Chad are happily married to beautiful women and have lovely children, and if they no longer turn heads, they have successful, fulfilling lives.
They reconnect immediately and spend a day ruminating about their shared past. Events take an unexpected turn when the dynamic duo try to regain their former cool by visiting Turn Back Time, a store that promises to help men look ten years younger. Following their makeovers, Joe and Chad are riding high and stumble into a drug bust. Suddenly they find themselves on the run from the law after people mistake them for high-powered criminals. The story follows their escapades and those of their families, who flee to a safe house. While Joe and Chad are lovable, Clark invests the other characters with less appeal. However, the two friends are the main show as they bumble through botched attempts to clear their names and return to normal lives. The story certainly requires a suspension of disbelief as Joe and Chad evade the authorities and find their lives at risk. The men also spend far too much time reminiscing about the old days, though the plot keeps moving. A surprise revelation and twist at the end make for interesting reading, though the abrupt conclusion leaves some strings hanging.
Endearing main characters help this caper rise above its clichés.
 (BROADWAYWORLD REVIEW)   Message From A Star.
Author Michael J. Clark weaves a story of romance and nostalgia that highlights the powerful, positive impact of friendship in his debut novel, "Message From A Star" (published by Austin Macauley).
Set in Florida, "Message From A Star" introduces readers to Joe Randall, who, on the eve of his 70th birthday, gets a visit from his old high school friend, Chad Dablusie. Over the past six years, ever since the love of his life, Stacey, walked out on him, Joe's life has spiraled downward, and Chad has come to persuade him to win Stacey back.
An excerpt from
"By now more than 30 yrs later, both aged 52, those early years had long gone. Memories that had crystallised over the years are all that remained for these two middle aged family men. But yes, as teenagers if anyone ever had the world at their feet it was Chad and Joe. But what life giveth, life will eventually taketh away. Never again would they experience the adulation they enjoyed from their college fan club. Gone forever being the local Romeos of their college and never again would they experience singing to a crowd of scantily clad beauties at the summer beach parties."
(BLUEINK REVIEW)   Message From A Star.
When Joe Randall and Chad Dablusie, two former best friends, find themselves in the same hotel in Disney World, they quickly renew acquaintances. Reminiscing about their high school hi-jinx growing up in the Elvis era, the 52- year-olds realize how much time has passed them by. At the suggestion of their wives, they visit a store called Turn Back Time. Coming out newly colffed and dressed in couture, they set out on the town. Trying to recapture their youth, they are soon in major hot water on the sunny beaches of Florida.
This book is at once, goofy and far-fetched, and yet somehow an enjoyable amusement park ride. Joe and Chad witness a crime and are forced to go on the lam and outwit both cops and robbers. As in old madcap movies, the main characters are written with so much good humor that readers can't help but root for them, even as they head pell-mell from one fantastic adventure to another.
That said, the book could have used some sharper editing; the New York natives suddenly slip in uncharacteristic phrases like "straightaway," and "two stone in weight," and there are times when the action could have been streamlined. In one scene, for example, the characters are forced to cross a makeshift ladder that extends from one apartment building to another to escape the bad guys. The misadventure lasts an overlong 14 pages. More significantly, Clark brings the reader up short by shifting gears at the end. Abruptly, it's somel 8 years later and Joe is 70. In Clark's attempt to wrap up his thrill ride with one more loop-de-loop, the author overreaches for a surprise ending that just doesn't work.
This isn't a fatal flaw, however, because Clark's characters are his strength. If you can go along for the ride, you'll find this a nostalgic paean to the friendships of youth, as pleasurable to remember as a day at Disney World.
Available in Hardcover, Paperback eBook and Audio
Available in Audiobook